I'm a bit torn.
I always am in the summertime.
I never know what to wear.
Well, let me clarify. I never know what to wear when it's warm. Not that I've had to worry about it much this year, or last year or even the year before that for that matter. Bloody British weather.
My dilemma, and yes I am aware that it is somewhat trifling, is about skirt length. Do you go mini, midi or maxi in the summer months?
I suppose it depends on your legs and if you don't mind getting them out. I don't mind my legs too much but they have to be prepped with a sturdy razor and a giant can of St. Tropez before I will show them off to anyone - even the dog!
Which is why I'm such a huge fan of the maxi dress, they hide a million sins and I've got a particular passion for striped ones. My favourite is a
maternity dress
from Dorothy Perkins that I'm wearing again this year minus huge belly. I should probably get myself a new one, have been eyeing up these beauts.

boden
anthropologie

dorothy perkins
All nice huh? The Boden one looks particularly comfy, like I could just swish about all day in it but I expect I'd get more wear from the Anthropologie or Dorothy Perkins ones.
I do like shorter skirts too though not a fan of the mini. In my opinion teenagers are the only age group who can get away with a mini-skirt, everyone else just looks a little sad and desperate - this opinion may however be influenced by my rather unattractive thighs of thunder.
This summer, and always for that matter, I'm in love with big, big flowers, midi length and vintage patterns. I just got this super bright dress from Etsy and it only cost me a fiver, love it! Husband on the other hand was caught mumbling about there being little wonder it only cost a fiver, I'm not entirely sure what he means.
In a similar fashion, I like these jazzy numbers too. A little bit loud and saying something.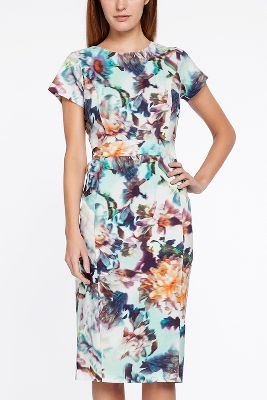 anthropologie

asos
However for all these glorious dresses, the weather today is awful. It's cold and raining and I'm wearing a jumper (a frigging jumper in June!), jeans and big thick socks. So these pretty dresses are all a bit of a pipe dream really. Sweet dreams though.